We have encountered frequent interest in projects which - just like our handcrafted apparel - were originally developed for personal purposes. Therefore, we do respond to some requests for our own books/photography products and, on occasion, assisting with things like scanning your photos or documents for setup in your own projects such as a family book or special- purpose poster. We will also respond to queries about some neat stuff we do not try to keep in stock but which can be tailored to your preferences - e.g., bookmarks featuring your own memories or messages, placemats/hot pads to match your decor, crocheted ornaments, etc
Following are some examples of Photography, Book Projects, and Neat Stuff to whet your appetite. Contact us to discuss possibilities.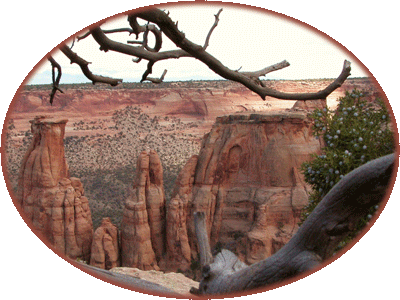 Photography
Our photography features special scenery which we encounter in our travel or off-road recreation. A few samples are shown below, to give you an idea of what is being made available in everything from enlargements to note cards. We don't plan to pre-stock a large volume of all our photos, however, a few samples are displayed below; so feel free to contact us when you have something special to pursue.
Dallas Divide
Flower Slope
Deer In Flowers
Book Projects
We have a varied range of subjects, including family history, 50-year school reunions, rural school history, a book of clients photos which we edited and supplied photos, journal of an Alaska trip, etc. We are also authorized to reproduce a special out-of-print "Hufstedler and Allied Families" genealogy book when needed. These are representative of requests that can be discussed.
Hufstedler-Ollar Family Book contains about 300 pages of ancestor and current family photos, family tree, plus history notes and personal anecdotes. Focus includes everything available on grandparents' siblings' families, and is a godsend to a very wide family group.

---

Barkadaro Reunion Memory BookBarkadaro
The Story: The History, The People, The Memories is a unique collection of history which pertains to rural-community schools in the first half of the 1900s timeframe. The book began as a collection of past and present information, photos and memories triggered by the first-ever reunion of folks ever involved in the tiny southeast Missouri school during its 1900-1963 existence. Then its publication led to follow-on material, including unique bits of history found in the local county records. The resulting Barkadaro ~ The Story has generated interest from a wide audience and was requested by the State of Missouri Archives and other archives/historical museum libraries, and can be ordered by anyone on request.

---

Granby High School "Then & Now" (about 300 pages) was compiled for participants in the 1956 classmate (50th year) reunion, Norfolk VA. It, too, includes history, past and present photos, and numerous memories.

---

For Those I Love is a collection of poems by Anna Ruth Burford (high school teacher to three generations of our family). We compiled, edited and incorporated photos to illustrate the poetry.

---

Tapestry of My Life
Why on earth would anyone bother to read six decades of poems from one single pen?

It was only my soul-mate's insistence that I do so (to prevent the folder stuffed full of writings from being unwittingly tossed into the trash when I die) which led me to type these handwritten bits and compile them into a book.

Even then, I would never have offered the book to readers-at-large were it not for the proofreader/critic's comments: "After finishing review of Tapestry of My Life, some things need to be said: You are, indeed, a real poet - far surpassing many whom the world recognizes as poets; you are a poet at heart. Many of these writings have tugged at my heartstrings and prompted tears, or brought laughter. Don was right: What a shame it would be to keep these wonderful poems under a bushel! You have a special talent, and I feel privileged to be allowed to witness some of it."

Tapestry of My Life thus compiles sixty-odd years of my writings along with relevant photos. To anyone who reads it, may it trigger special enjoyment through thoughts, wishes and memories of your own!

Judy Hurt Fite, 2013

---

Alaska Journal presents narrative and photos from our 2-month RV trip to Alaska in 2000 with close friends.

---

Neat Stuff Examples
Hot Air Balloon, Ear Warmers, Door-hanger, Crocheted Pots and Bookmarks, .

---

We welcome your interest regarding our future projects!

Feel free to contact us at:
E-mail: FiteSolarado@gmail.com
Phone: 970-323-6721